Rode 23 miles on the Montour Trail, from Groveton to Boggs round-trip. At Groveton a lot of volunteers were working on the grounds. At MP3.14 there's a new trailhead gate (photo above), very nice indeed. I saw a set of car keys dangling on one of the bikes, I wondered if a jogger actually left their keys there. Also, I saw a new reflector and a frame pump on the sculpture-bikes and wondered if people are accessorizing them, which would be kind of cool. Organic n'at.
Rode out to Boggs and felt the need to some chow, and was very pleased to remember an upscale free range red pepper - scallion biscuit I'd thrown in the pannier at Whole Foods yesterday, so I had a gourmet snack and a bike nap and I was living large.
Tour the Montour is this Saturday, and non-participants planning to use the Montour Trail between MP0 and MP20 are well-advised to consider using the Trail after 1pm.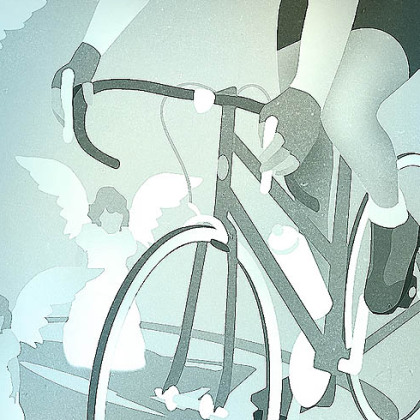 An excellent
Letter
in today's Post-Gazette from a bicyclist thanking the "angels" who stopped to render assistance after a fall on the road.