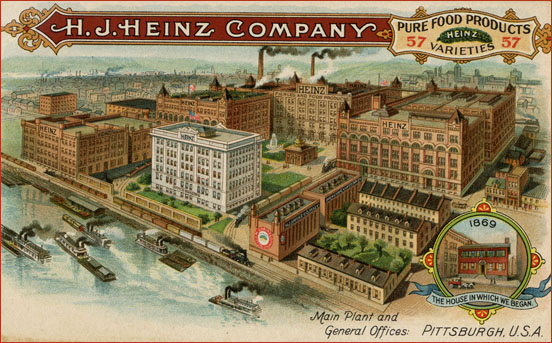 6/21/2013 9miles
A short ride today along with new trail rider M. We started from the Heinz plant at the 16th Street bridge and M explained that the Heinz business was quite enlighted in its day, I'd like to learn more about that.
H. J. Heinz was incorporated in 1905, and Heinz served as its first president, remaining in the position for the rest of his life. Under his tutelage, the company was noted for fair treatment of workers and for pioneering safe and sanitary food preparation. He provided his employees with free medical care, recreation facilities such as gyms, swimming pools, and gardens; and educational opportunities such as libraries, free concerts, and lectures. Heinz led a successful lobbying effort in favor of the Pure Food and Drug Act in 1906
Rode out to Millvale, (saw BikeyGirl) stopped at Pamela's Pancakes for coffee and strawberry crepes. OMG. Back to the trail, and noticed something new crossing the Route 28 on- and off-ramps; the crosswalk has a crossing button, which illuminates yellow blinking lights. Pressed the button, the lights blinked, cars stopped in both directions. That was really nice.


Rode back to 16th Street, met a few other cyclists, continued to a place opposite the Point. There were quite a lot of small boats moored in anticipation of a Kenny Chesney concert on Saturday night. Boat camping seems possibly better equipped than car camping, these folks were doing it big.


Continued around to the Casino, reversed and back to the Heinz plant. A very nice ride.